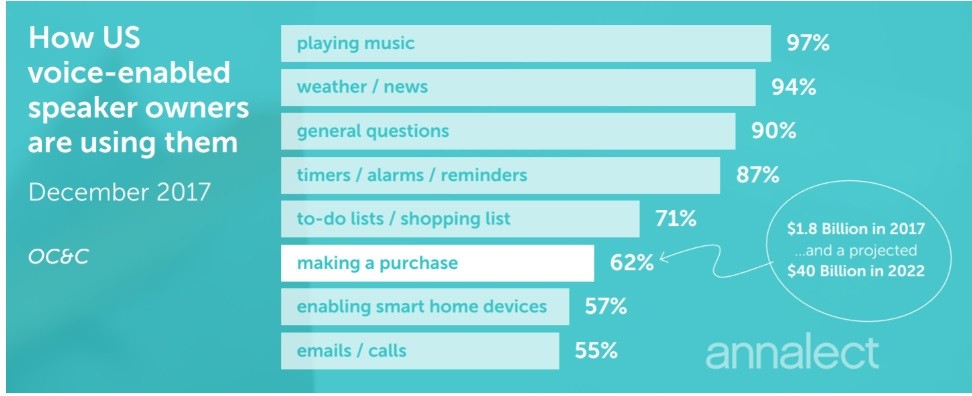 With so many new voice-activated technologies available and under development, it's like living in science fiction today!  You can control many things in your home just by your voice (through an appropriate voice activated device), controlling your heat, lights, sockets, and appliances using simple voice codes. The advent of voice assistant technology (devices like Amazon Echo and Google Home, or assistants like Alexa and Siri) has influenced how people perceive and interact with the Internet, from conducting their information queries to their personal shopping. A good, targeted voice marketing campaign, set forth by a voice marketing agency, will help your business take advantage of this tech and the associated trends.
What you need to know about Voice Marketing in Agency
What is voice marketing?  Beyond what's mentioned above, voice marketing is essentially incorporating and integrating the use and optimization of voice activated assistance devices into businesses' marketing strategies in order to reach these users that may be interested in your business, services, and/or products.  Capitalizing on this is how businesses interact and develop their strategies, empowered by a voice marketing agency, through both the business' plan, and the consumer's use.   It's more than simply transforming a business' current advertising process from a webpage to an optimized voice-read webpage; it also provides the opportunity to include your own voice in your business' copy.
Current/Projected Patterns
Reports indicate that 58% of consumers used voice assistance to find local business information between 2017-2018, and others state that 62% of those with voice enabled speakers used them to make a purchase (Annalect image below).  Currently, nearly 30% of North American families having voice assistant devices in 2019 (significantly higher with voice assistance through their mobile devices), and forecasters predict that overall adoption of this tech will increase as voice recognition tech continues to improve, some assessing that nearly 70% of North Americans will adopt this technology by 2022. Presently, almost half of these use them to search for businesses, products, or services.  Utilizing a voice marketing agency will enable your brand to capitalize on this trend.
Why are these likely to be increasingly adopted?
Reasons vary for why this tech is likely only going to continue to rise in popularity; however, considering people speak nearly three times faster than they type, consumers are using this technology in part because it emulates how we already communicate – interactively.  With this increased convenience, and with our interaction with voice assistants reflecting our interpersonal communication process, a voice assistant is likely to become more often employed in a household for both functional and recreational purposes. Ensuring that consumers get your business in the response is predicated on search engine optimization, and a business' voice marketing should capitalize on making their product copy simple, optimized, and interactive if they want to have their answers at the top of the list. And, of course, by employing the expertise of a voice marketing agency.
Considerations
Currently, voice recognition technology is about 90% accurate, with continued advancements.  Many argue that mass adoption of the tech is on the horizon, likely by around 2020/2021, based on current projections of the tech reaching 95% accurate and higher.  Early adoption of this technology enables a higher presence in voice marketing, and it can also enable early problem solving and trend identification. Other considerations revolve around understanding how, when, and where your business' audience turns to their voice assistant devices for what they're looking for.  A voice marketing agency should recognize that most consumer questions will revolve around their desire to know, to go, to buy, or what to do, and generally for the latter three, they'll want to know the nearest options to them.
Also, recognizing what consumers are asking and how they are asking it enables specific customer questions to be addressed and optimized for your business' answer; something as simple as your business repurposing an online FAQ page into an audio-friendly format, or even having a real voice provide the answer would enable a more interactive feeling to the exchange.  A voice marketing agency can enhance your brand by giving it a literal voice!
As technology evolves, businesses will need to adapt to how consumers use it in order to optimize their brand.  Voice marketing agencies provide the marketer with more direct interaction with the consumer who is looking for their products.